It can improve your skin tone, texture; reduce scars; and tighten your skin in a single treatment.
The result is close to the gold standard achieved by conventional CO2 laser resurfacing, yet avoiding the long downtime and potential risks from treatment.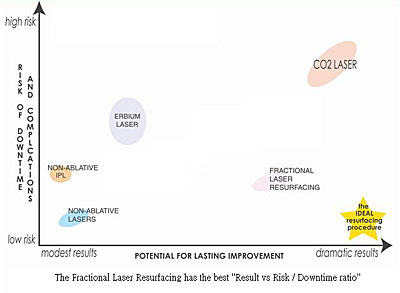 How Does It Work?
The CO2 laser beam is delivered by a high speed scanner, and thousands of microscopic holes 0.1 - 0.12mm are punched into the skin right next to each other in minutes, immediately eliminating discolourations at the surface and causing volumetric skin contraction. In a week or so when these microscopic wounds heal up, the skin is tightened further. It also stimulates more continual collagen remodeling to follow over the following months.

The higher the energy, the deeper it penetrates into the skin. The higher the density of the laser beams, the larger amount of skin tissue is removed.

By carefully choosing the amount of skin surface treated and the depth of penetration, the doctor can tailor treatment to the indication and patient's tolerance of downtime.

What Are The Advantages?
Only a small portion of the skin's surface is treated, making the healing process much quicker with relatively short downtime, typically 4 - 7 days.
Simply outperforms any non-CO2 based laser and device for skin rejuvenation, with results that are close to traditional CO2 laser resurfacing.
Minimal discomfort as only topical anesthesia is needed for most individuals.
Safe and effective for virtually all skin areas including face, eyelids, neck, chest, back, arms and hands.
Cosmetic appearance continues to improve with stimulation of collagen production up to 6 months after procedure.

The Procedure Itself
A topical anesthetic cream will be applied for about an hour before the procedure. There is some pain associated with it but usually it is well tolerated.
The procedure takes about 10 minutes for the face. It is then followed by a cooling-off treatment with a special cooling machine, which helps to sooth the skin and reduce the redness much faster. For cases treated with higher energy, a treatment with infrared light will further shorten the healing process.
With a gentle washing and plenty of moisturiser, the tiny scabs will begin to flake off in 2 - 3 days, and last for about 5 - 7 days. You can start wearing make-up as early as day 2 or 3, as long as the wounds are dry. Pinkness should be gone in about a week.
What Are The Benefits?
It has a dramatic effect on the skin:
Improves skin tone, glow and texture
Reduces fine lines and wrinkles
Softens deeper frown lines
Tightens loose eyelids skin
Tightens skin around the neck and jowls
Tightens loose skin in the tummy and reduces white lines from pregnancy
Softens scars, especially acne scars

Treatment Examples
The following examples show results after just one single treatment: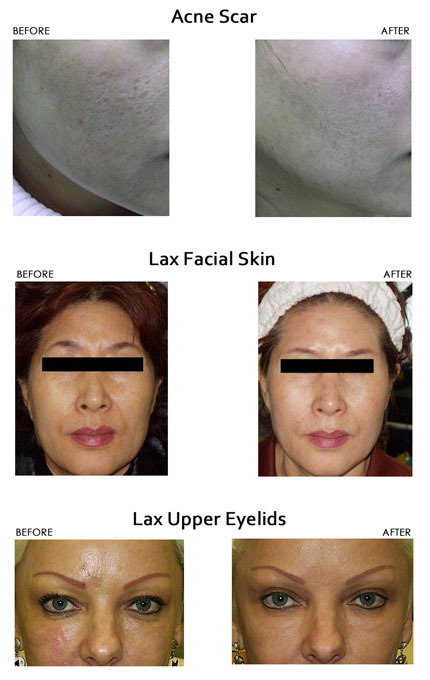 The results are long-term and, with proper sun protection, can persist for many years. Most effects of treatment become visible very quickly, whereas others, such as new collagen formation, build up gradually and become more evident over time. Therefore, most people look even better 3 - 5 months after the procedure.