Dermabrasion means abrading the surface of skin, and micro-dermabrasion means the same thing but in a much milder form.
This is basically an exfoliating process to remove the outermost layers. Different degree of depth can be achieved depending on the method and power of the machine. Different methods include mechanical abrasion from jets of zinc oxide or aluminum oxide crystals, fine organic particles, or a roughened surface. The procedure is not very painful, although sometimes for strong power machines, it may help to put on local anaesthetic cream prior to the treatment..
Crystal micro-dermabrasion systems rely on tiny crystals that are blasted onto the skin on their way of going through the vacuum suction tubes.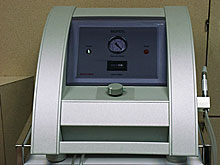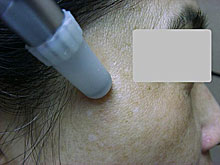 Diamond micro-dermabrasion systems operate without the need for crystals. A diamond tipped head is placed in contact with the skin and is moved across the skin surface, while the skin is sucked into the middle by vacuum suction to create a tighter contact. In both systems the dead skin cells are sucked away from the surface.
Excessive pigment is carried away in the exfoliation process together with the dead cells. The minor abarsion also speeds up cells renewals and healthy collagen regeneration. Therefore micro-dermabrasion is useful to :
remove blemishes in sun-damaged & aged skin
reduce pores sizes
reduce fine lines
remove blackheads and treat mild acne
improve scars, particularly acne scars
reduce stretch marks
The number of treatments recommended for maximal results ranges from 4 - 8, depending on the individual and the problem being treated. Each is spaced from 2 to 3 weeks apart, until the desirable results. Maintenance of results requires periodic repeat treatments after the initial regimen is completed. Very often it is best to combine with chemical peeling like a glycolic acid peel to increase the effect, either in the same session or in alternative sessions.
Acne Scar Before and After Treatments